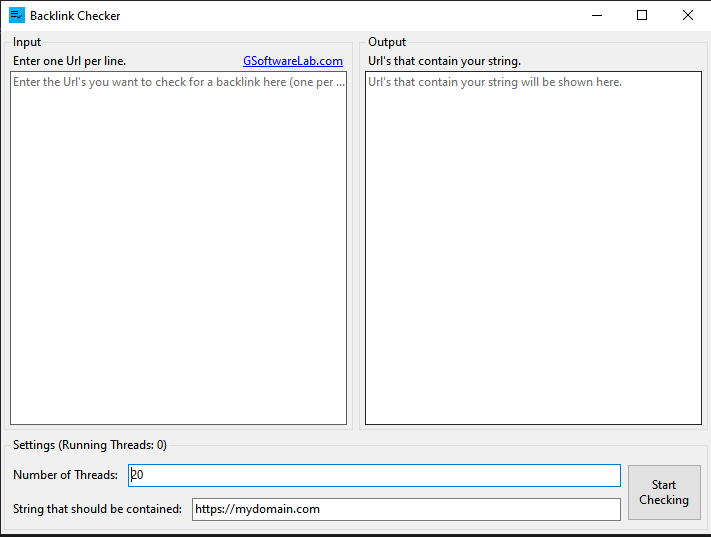 Get Real-Time Backlink Insights with Our Free Backlink Checker
The Backlink Checker is an intuitive and easy-to-use tool that allows users to check if websites contain a specific string, such as a domain name or a keyword. This feature can be used to quickly and easily check for backlinks to your website, helping you track and analyze the quality and relevance of the links pointing to your site. With a simple and straightforward interface, the Backlink Checker is a powerful and essential tool for anyone looking to monitor and improve their website's backlink profile.
Some key features of the Backlink Checker include:
Bulk/Mass List Support: The tool allows users to check multiple URLs at the same time, providing efficient and effective bulk/mass list support.
Multi-Threaded Checking: The Backlink Checker uses multiple threads to check URLs concurrently, improving the speed and efficiency of the checking process.
Easy to Use: With a simple and intuitive interface, the Backlink Checker is easy to use, even for users with no technical experience.
Custom String or Link Checking: In addition to checking for backlinks, the tool also allows users to check for any custom string or link, providing flexibility and customization.
Detailed Results: The Backlink Checker provides detailed results for each URL checked, including the number of backlinks found, their quality and relevance, and other important information. This allows users to easily analyze and track their website's backlink profile.
 
To use the Backlink Checker, follow these steps:
Enter a URL or a list of URLs into the input text field, separated by a new line.
Adjust the maximum number of threads to use.
Enter a domain name or any other string that should be contained in the URLs you entered.
Click on the "Start Checking" button to begin the checking process.
The URLs that contain your specified string will be displayed in the output text field, each on a separate line.
Why Our Software and Bots are the Best Choice for Your Business
Our Software and Bots are user-friendly, regularly updated, customizable, and backed by dedicated customer support. They are a powerful and cost-effective solution for enhancing online presence and productivity.
At Our Company, we offer a 14-day money back guarantee on all of our products. If you are not satisfied with your purchase, you can request a refund within 14 days of receiving your order. We are confident in the quality and effectiveness of our products and believe that our money back guarantee is a testament to our commitment to customer satisfaction. If you have any questions or would like to request a refund, please contact us.
All of our products come with free lifetime updates, including new features and bug fixes. Our commitment to regular updates ensures that our customers always have access to the latest and most advanced versions of our software products. Contact us if you have any questions or would like to learn more about the features and benefits of our products.
Our software is proudly made in Germany with love and a lot of coffee. We take pride in the quality and attention to detail of our products. Our software is designed to provide exceptional value and support to businesses and individuals alike. Give our products a try and experience the quality of German engineering and design.
We offer free email-based support for all of our products. If you have any questions or need assistance, please contact us. Our dedicated support team is available to help you get the most out of our software, providing timely and helpful answers and guidance. Contact us if you have any questions or concerns.
All of our tools and programs are developed in-house, which is why we can guarantee that our software is free from viruses and other malicious software. We are committed to providing safe and reliable software, and we regularly update and maintain our products to ensure that they remain effective and efficient. Contact us if you have any questions or concerns about the security of our software.
*We apologize, but we are unable to offer refunds for crypto payments at this time due to the high cost of processing them.