Organic Website Traffic Bot in 2023:
Generate Large Numbers of Views
Organic Website Traffic Bot in 2023: Transforming Clicks into Crowds, One View at a Time!
Software Key Features
Unlock the Unlimited Website Traffic with Traffic Buddy's Key Features 🚀
Unlimited Traffic
Unleash Unlimited Traffic Streams
Organic Traffic
Experience Genuine Organic Web Traffic
Country Targeted Traffic
Geo-Specific Engagement: Target by Country
Real User Behavior
Mimicking the Authentic: Real User Interactions
Full Proxy Support
Full Support for Private and Public Proxy Servers
Windows OS Support
Fully Compatible with Windows Operating Systems, VPS or in a VM.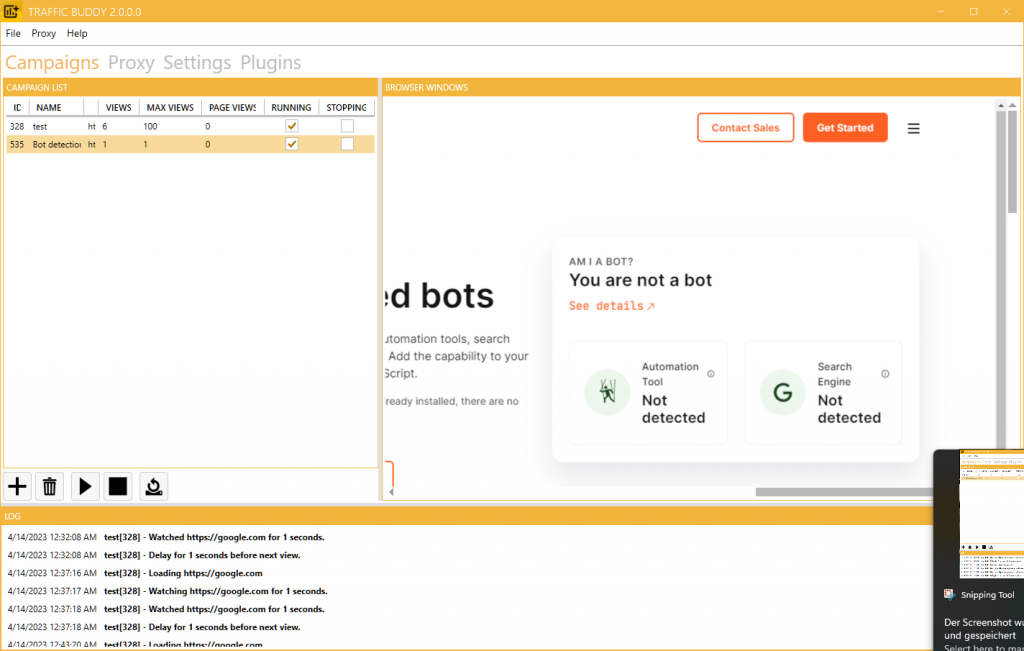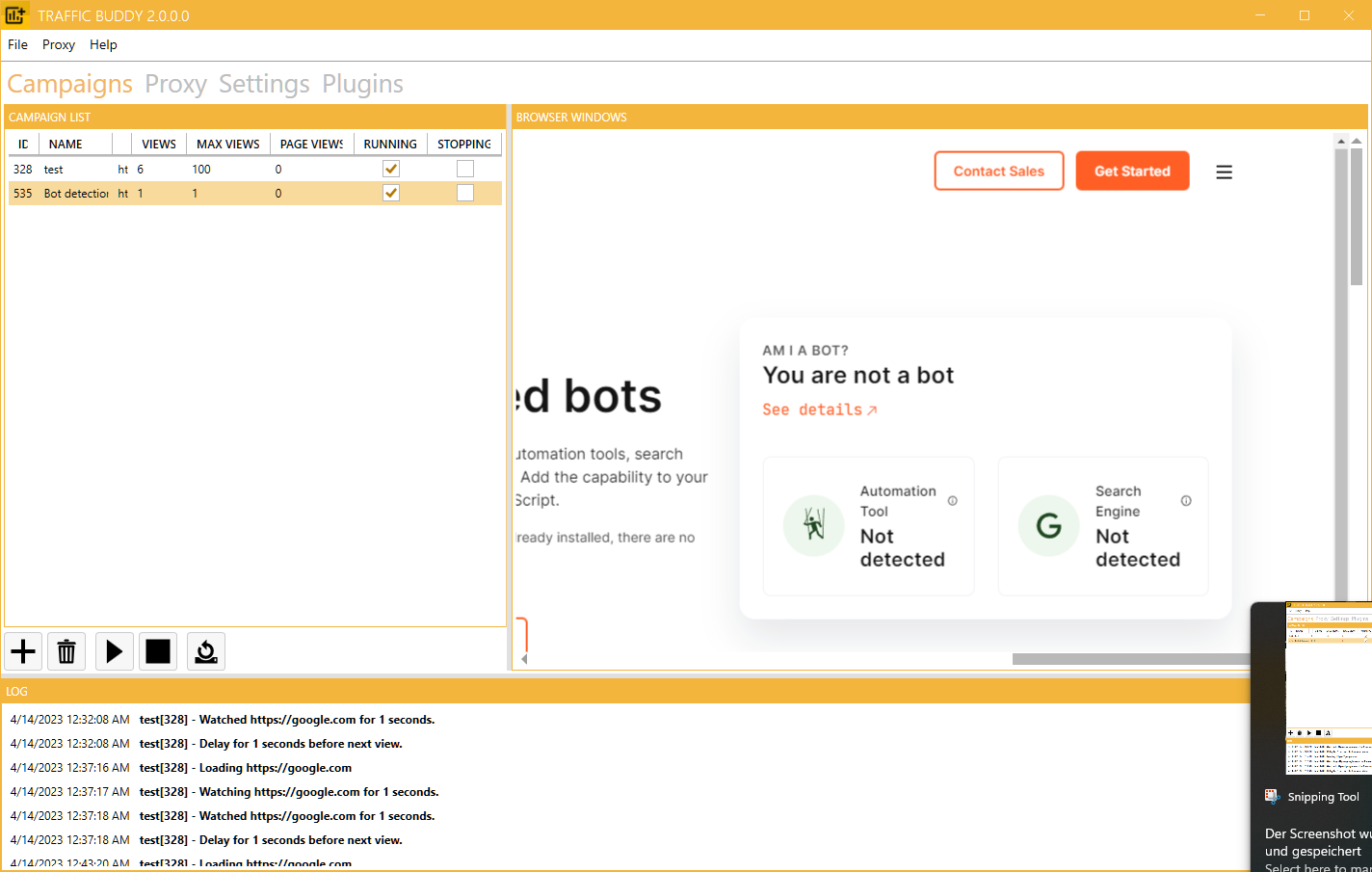 ---
"Awesome software and the developer is very friendly and works with you. Wish more people were this nice and caring. Thanks again."
franklong12
★★★★★
---
"Great program and excellent seller. I ordered both Proxy Buddy and Index Buddy with no complaint."
javcash
★★★★★
---
"The program has earned, the seller answers questions about how good the program is, time will tell, the seller recommend!"
kuryoleg
★★★★★
Generate thousands of Website Hits within Minutes
Best Organic Traffic Bot in 2023
Unlock the future of browsing automation with Traffic Buddy V2. Designed meticulously for both newbies and seasoned experts, our platform takes you on an unparalleled journey of efficient campaign management and enhanced web interaction.
Dive into a world where managing multiple Chromium-based browsers becomes a breeze. Seamlessly customize your viewing metrics, harness the power of interactive JavaScript plugins, and achieve pinpoint accuracy in adjusting browser and proxy settings. Want to target specific geographic regions? Or mimic genuine web interactions? Traffic Buddy V2 has got you covered.
Step into the new era of browsing automation. Whether you're looking to simulate user behavior, test web applications, or just delve into the realms of advanced browsing, Traffic Buddy V2 is your go-to companion.
Intuitive Campaign Management
Step into the world of intuitive campaign management with Traffic Buddy V2. Gone are the days of complex interfaces and tedious processes. Whether you're a newcomer or a seasoned pro, our platform is meticulously crafted to make your campaign creation, monitoring, and optimization an absolute breeze.
🖥️ Seamless Interface: Navigate effortlessly with our user-friendly dashboard, placing the tools you need right at your fingertips.
🚀 Quick Campaign Creation: Launch campaigns in mere moments. Enter your desired parameters, click 'Start', and watch the magic unfold.
🔄 Real-time Monitoring: With an embedded view, keep a pulse on your active browsers, making adjustments on-the-fly for optimal performance.
🛠️ One-click Modifications: From edits to complete overhauls, manage every facet of your campaigns with simple click-through options.
📈 Efficient Tracking: Dive into comprehensive reports, understand your campaigns' impact, and make informed decisions for future strategies.
Customized Browsing
Unleash a new dimension of web interaction with Traffic Buddy V2's Customized Browsing feature. Break free from one-size-fits-all solutions and take charge of your browsing sessions down to the finest detail.
🌐 Tailored Sessions: Define your own rules. From session duration, delays to depth of browsing, craft interactions that mirror genuine user engagement.
⏱️ Precise Timing Control: Strategically spread views over time for a natural feel, or concentrate them for impactful bursts – the choice is yours.
🎯 Specific Traffic Origin: Mimic organic user behavior by setting traffic sources. Be it direct, from search engines, or a mix of multiple referrers, customize your campaign's footprint.
📌 Engaging Inner-URL Exploration: Go beyond the landing page. Delve deeper into sites by specifying how many inner pages should be visited, ensuring a comprehensive browsing experience.
🔄 Adaptable Metrics: As your goals evolve, easily adjust metrics on-the-go to fit the changing needs of your campaigns.
Don't be boxed into limitations. With Traffic Buddy V2, every browsing session can be a meticulously crafted masterpiece, perfectly aligned with your objectives.
Unlimited Organic Traffic
Elevate your digital presence to unprecedented heights with Traffic Buddy V2. Dive deep into a realm where the barriers of traffic limitations vanish, giving you the key to unlimited organic web visitors.
🚀 Sky's the Limit: Bid farewell to capped interactions. With Traffic Buddy V2, enjoy an unfettered flow of genuine-looking web traffic to your desired destinations.
🌱 Authentic Feel: Our advanced algorithms simulate human-like behaviors, ensuring your traffic feels real, natural, and entirely organic.
🌍 Global Reach: Attract audiences from all corners of the globe, diversifying your visitor demographics for a truly worldwide presence.
💡 Smart Engagement: Beyond sheer volume, our tool ensures deep, meaningful interactions, driving longer sessions and more page views.
📈 Boost Visibility: Enhance your online visibility, improve search rankings, and solidify your digital footprint with a constant influx of organic users.
Simulate User Behavior
In the vast realm of the web, authenticity matters. Traffic Buddy V2 introduces an unparalleled feature to truly emulate real-user interactions, bringing a human touch to your automated browsing sessions.
👤 Life-like Interactions: Beyond just clicks and views, recreate a genuine user journey from landing on a page to deep-diving into content.
🎭 Versatile Role-play: Simulate different user personas, from a curious browser to an engaged shopper, crafting diverse digital narratives.
💼 Data-Driven Decisions: Perfect for website testing and optimization, gather valuable insights about user pathways and tweak your strategies accordingly.
🎯 Engage & Convert: By mimicking genuine user behavior, increase the chances of organic engagements, leading to potential conversions.
🔄 Adaptive Algorithms: As the digital landscape evolves, so does our tool, ensuring the user behaviors simulated are always up-to-date and relevant.
Advanced Proxy Settings
In an age where digital privacy is paramount, Traffic Buddy V2 stands out by offering sophisticated proxy solutions. Navigate the web with confidence, shielded by our cutting-edge proxy configurations, ensuring every interaction is secure and anonymous.
🛡️ Robust Privacy: Toggle between various proxy protocols such as HTTP, HTTPS, Socks4, and Socks5, ensuring every browsing session is cloaked in top-tier security.
🌍 Global Footprint: Access websites as if you're anywhere in the world, utilizing our vast network of proxy servers spread across the globe.
🔄 Auto-Configuration: Our system intelligently discards non-functional proxies, guaranteeing seamless and uninterrupted browsing.
💼 Custom Filters: Personalize your browsing experience even further with country-specific filters, allowing you to pinpoint or exclude specific regions as per your requirements.
🔐 Tor Integration: Stay ahead with our future integration of Tor proxies, bringing another layer of fortified anonymity to your web interactions.
Product Images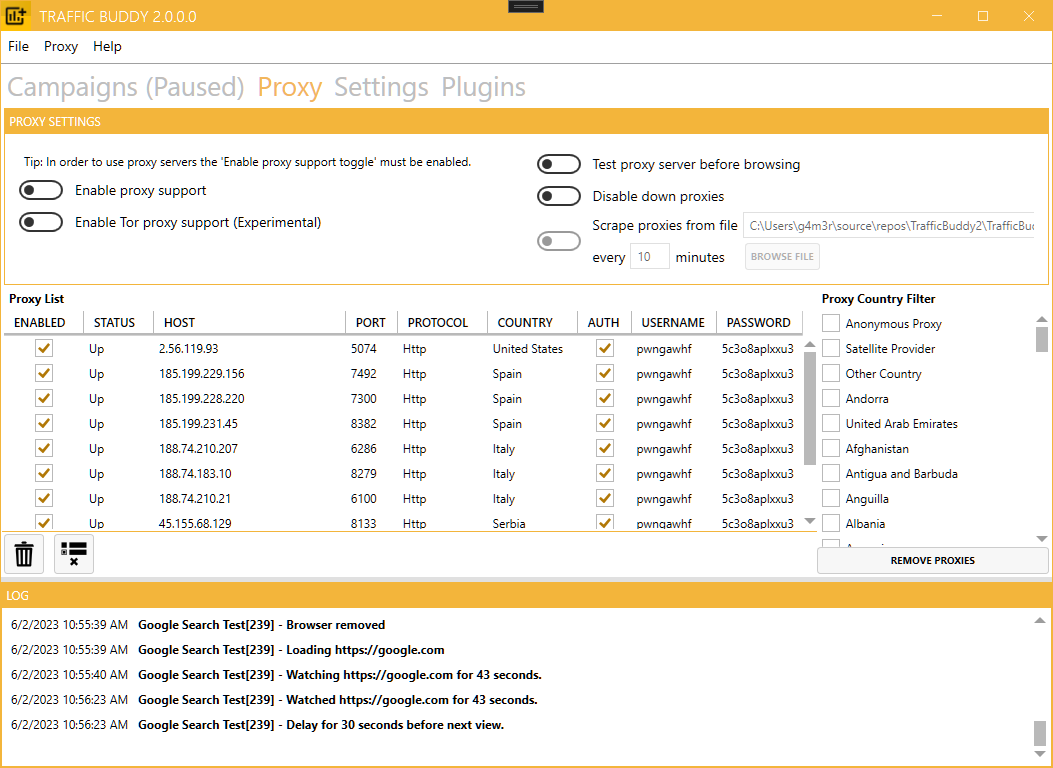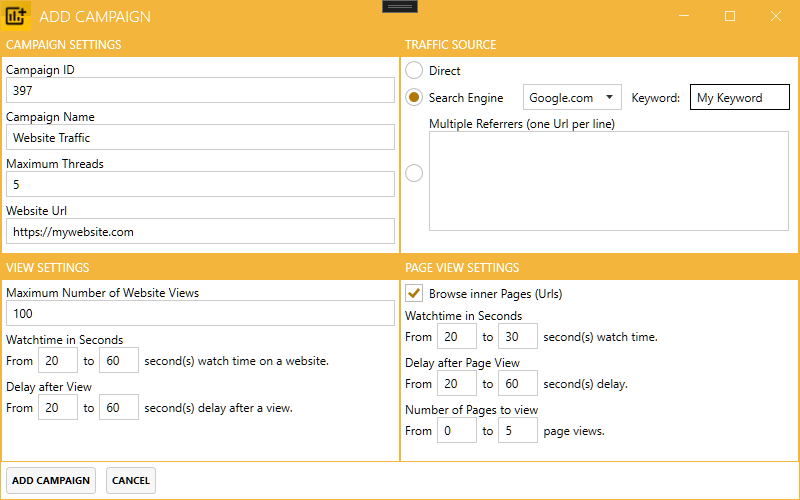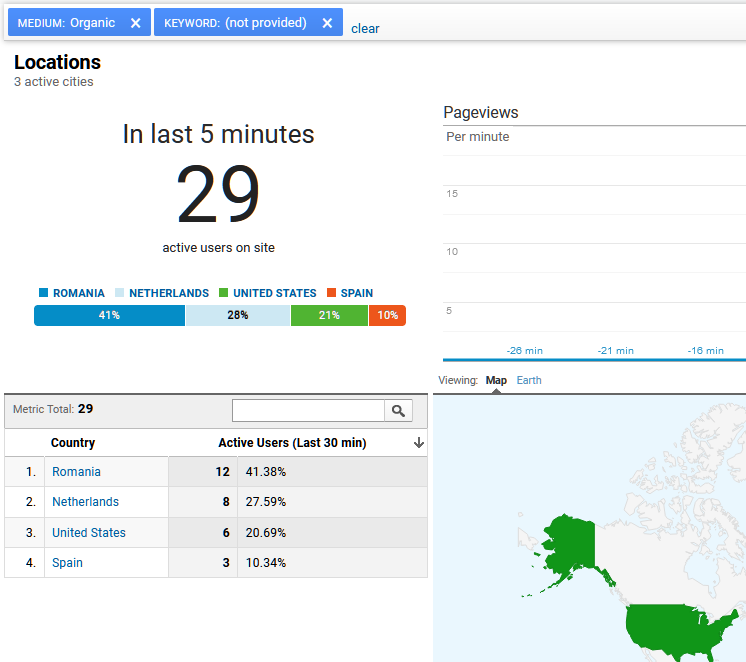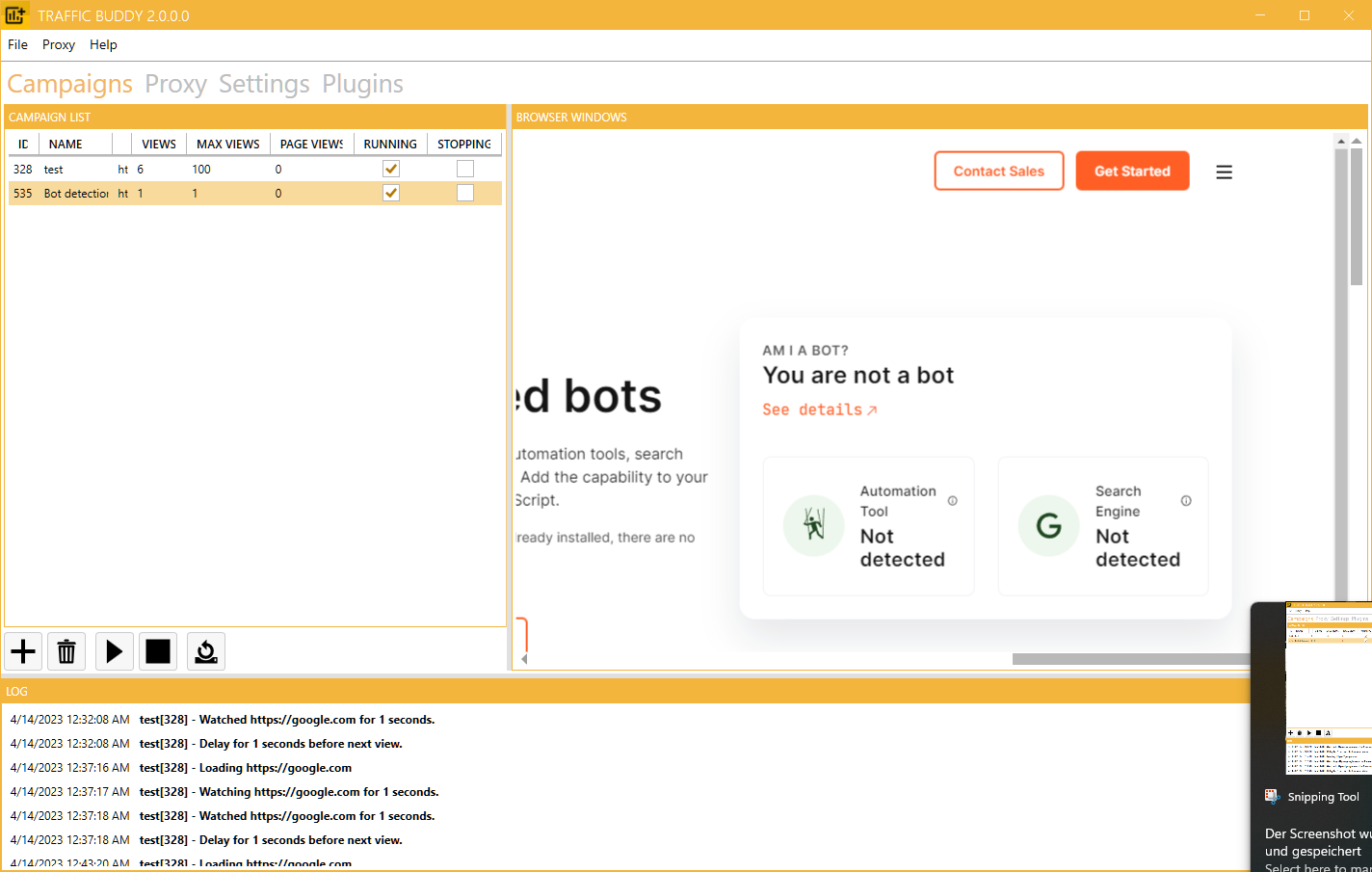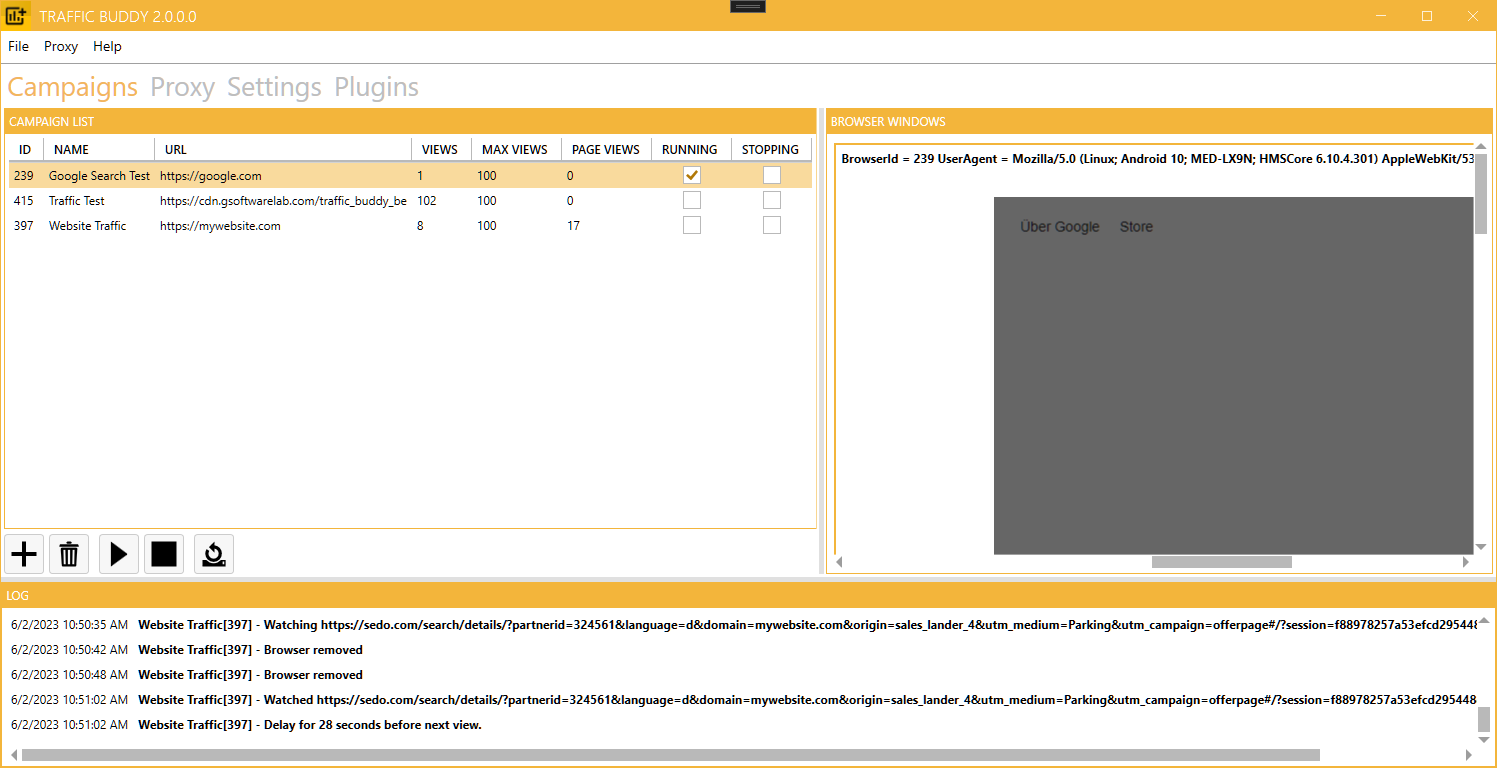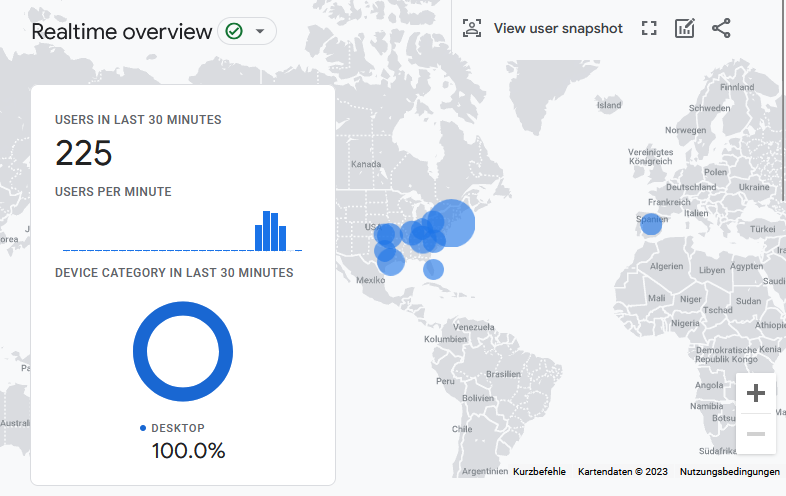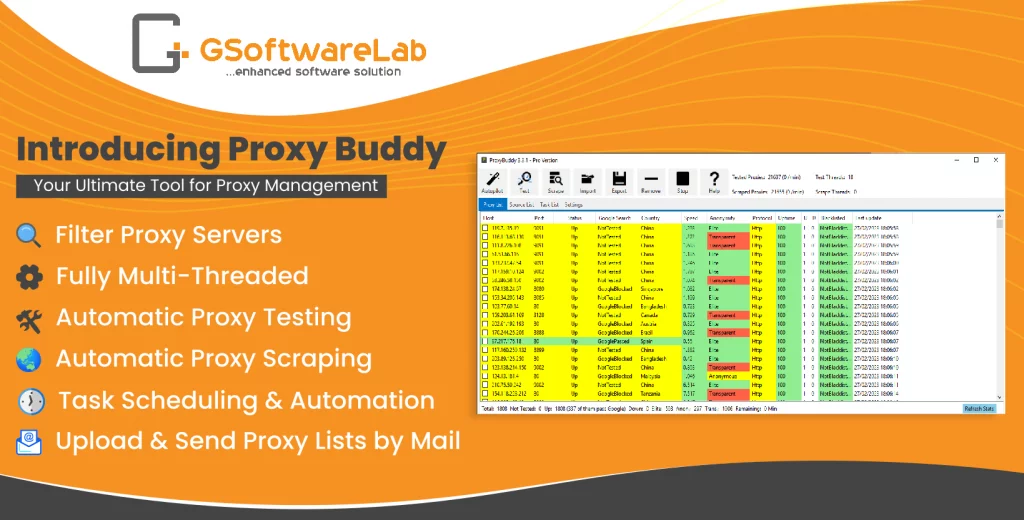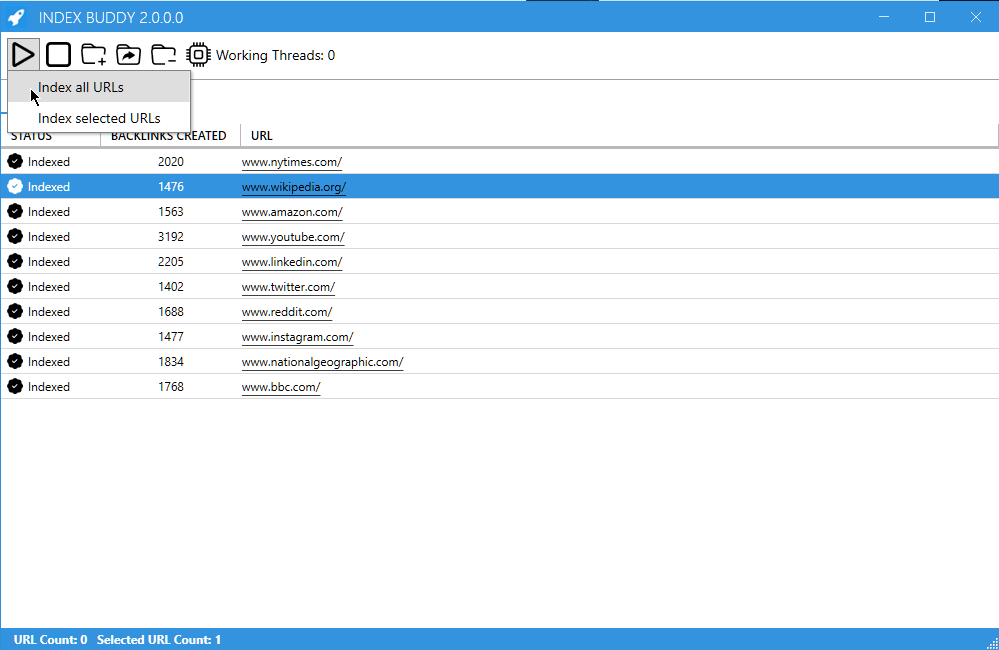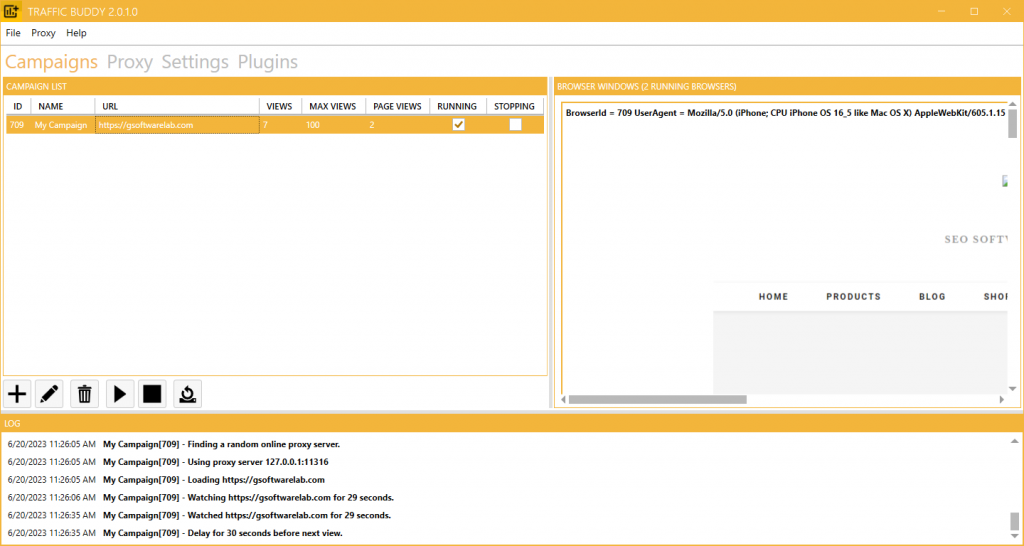 Best Choice Software
Our Software and Bots are user-friendly, regularly updated, customizable, and backed by dedicated customer support. They are a powerful and cost-effective solution for enhancing online presence and productivity.
14-Day Money Back Guarantee*
At Our Company, we offer a 14-day money back guarantee on all of our products. If you are not satisfied with your purchase, you can request a refund within 14 days of receiving your order. We are confident in the quality and effectiveness of our products and believe that our money back guarantee is a testament to our commitment to customer satisfaction.
Free Lifetime Updates
All of our products come with free lifetime updates, including new features and bug fixes. Our commitment to regular updates ensures that our customers always have access to the latest and most advanced versions of our software products. Contact us if you have any questions or would like to learn more about the features and benefits of our products.
Software Made in Germany
Our software is proudly made in Germany with love and a lot of coffee. We take pride in the quality and attention to detail of our products. Our software is designed to provide exceptional value and support to businesses and individuals alike. Give our products a try and experience the quality of German engineering and design.
Free German-Based Customer Support
We offer free email-based support for all of our products. If you have any questions or need assistance, please contact us. Our dedicated support team is available to help you get the most out of our software, providing timely and helpful answers and guidance. Contact us if you have any questions or concerns.
100% Virus Scanned
All of our tools and programs are developed in-house, which is why we can guarantee that our software is free from viruses and other malicious software. We are committed to providing safe and reliable software, and we regularly update and maintain our products to ensure that they remain effective and efficient. Contact us if you have any questions or concerns about the security of our software.
Over a Decade of Innovation
Since 2012, GSoftwareLab has been at the forefront of search engine optimization and marketing software. Over a decade later, our commitment to delivering innovative, reliable software remains as strong as ever. Here's to over ten years of driving digital success, and many more to come. Thank you for being part of our journey!
*We apologize, but we are unable to offer refunds for crypto payments at this time due to the high cost of processing them.
Frequently Asked Questions
Frequently Asked Questions about our Traffic Bot
What is Traffic Buddy V2?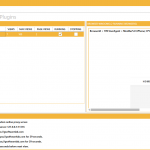 Traffic Buddy V2 is an advanced software tool that enables users to create and manage automated browsing campaigns. With functionalities ranging from managing multiple Chromium-based browsers to integrating custom JavaScript plugins, it provides an all-encompassing solution for optimizing browsing experiences.
What is a Traffic Bot?
A Traffic Bot is a software application or script that is designed to simulate human web traffic. It operates by automatically visiting websites, clicking links, and performing other similar actions that a human user might do. Traffic bots are programmed to mimic human behavior to make their actions seem as natural as possible to web analytics and tracking systems.
How can I interact with specific web elements using Traffic Buddy V2?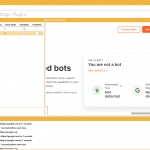 Traffic Buddy V2 offers a Plugins feature. These are custom JavaScript snippets designed to engage with specific website elements, allowing for personalized interactions such as button clicks or a sequence of actions.
What customization options are available in Browser Settings?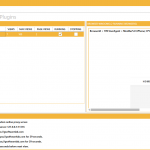 Browser Settings provide options like enabling or disabling JavaScript execution, controlling image loading, and setting the browser's locale and language.
How do Proxy Settings enhance my browsing experience?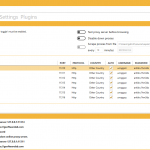 Proxy Settings in Traffic Buddy V2 allow you to configure the use of proxy servers. You can choose from protocols like HTTP, HTTPS, Socks4, and Socks5. The application also provides a list of pre-scraped public proxy servers, and you can even filter them by country.
Will there be support for Tor proxies?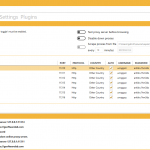 Yes, support for Tor proxies is in the pipeline and will be integrated soon to offer an additional layer of security and anonymity.
Can I control the origin of my traffic in campaigns?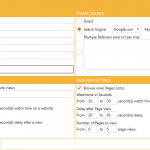 Absolutely! While setting up a campaign, you can specify the traffic's origin or referrer. This can be direct, from a search engine with specific keywords, or from multiple random referrers to mimic organic user behavior.
How do I add a custom JavaScript plugin?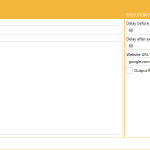 To add a new plugin, provide a unique 'Plugin Name', input the 'JavaScript Code', set 'Execution Delays' if required, specify the 'URL Must Contain' field for targeted execution, and opt for 'Output Log to the Console' if you wish to monitor the execution.
How can a Traffic Bot increase search engine ranking?
Traffic Bots can be used to artificially inflate the number of visitors to a website. When a site receives more traffic, it is often perceived by search engines as more popular and relevant, which can lead to higher search engine rankings. However, it's important to note that using traffic bots to manipulate search engine rankings is against the terms of service of most search engines, including Google, and could result in penalties or de-indexing of the website from search engine results.
What is the difference between Organic and Paid Traffic?
Organic traffic refers to visitors that come to a website naturally through search engine results pages, referrals from other websites, or direct visits, without being driven by paid advertising. On the other hand, paid traffic refers to visitors that come to a website through paid advertising campaigns such as pay-per-click (PPC) advertising, display ads, or sponsored social media posts.
Accepted Payment Methods