Proxy Buddy Version 3.2.0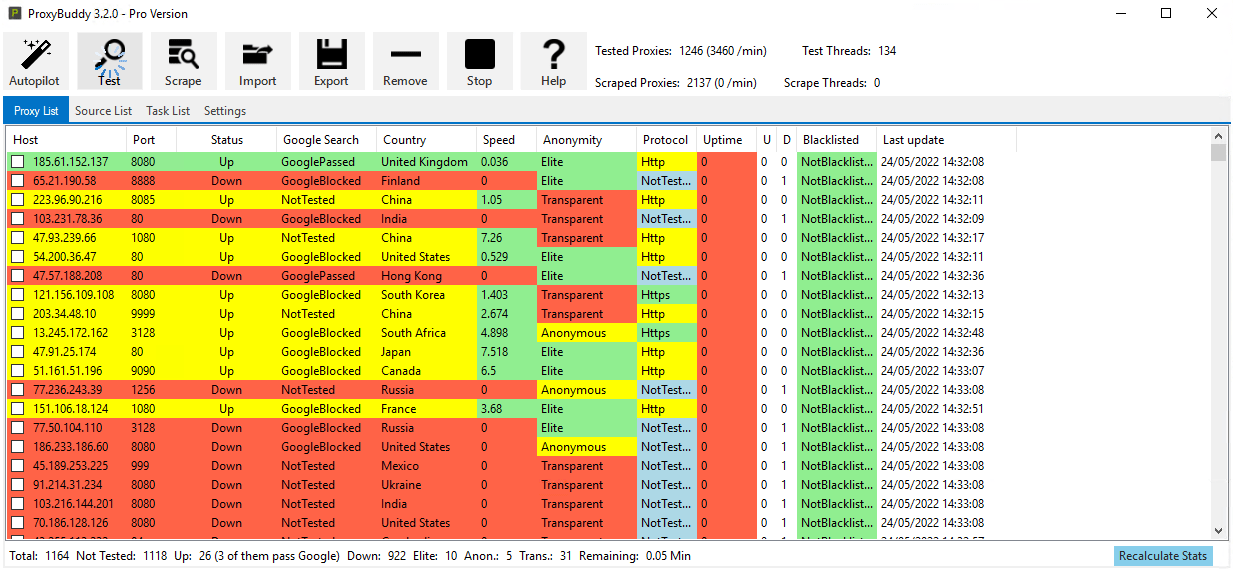 We are excited to announce the release of Proxy Buddy Version 3.2.0. This latest version of our popular proxy management software includes a number of new features and improvements to enhance your experience.
One of the key new features in Version 3.2.0 is the ability to export proxies in Scrapebox/Traffic Buddy format. This makes it easy to use the proxies you collect with Proxy Buddy in other programs, allowing you to maximize their potential.
In addition to this new feature, we have also added busy indicators to provide feedback to users when the program is performing a task. This helps to improve the user experience and ensure that you know what the program is doing at all times.
We have also made a number of improvements to the program, including improved proxy testing and source scraping to provide more accurate and reliable results. We have also improved the proxy source to provide a wider range of proxies, and we have made enhancements to the license activation process to make it easier for users to get up and running with the program.
In addition to these new features and improvements, we have also fixed several bugs to improve the overall stability and performance of the program. This includes fixes for GUI bugs, major bugs, and minor bugs to ensure that the program runs smoothly and without interruptions.
If you want to learn more about Proxy Buddy and its features, please visit our website to find out more. We encourage you to try out the latest version of the program and let us know what you think.
Proxy Buddy V3

Value added tax is not collected, as small businesses according to §19 (1) UStG.
New Features
Added the ability to export proxies in Scrapebox/Traffic Buddy format
Added busy indicators to improve the user experience when the program is performing a task
Added an update StopForumSpam DB feature to keep the program up-to-date with the latest spam database
Improvements
Improved proxy testing to provide more accurate results
Improved source scraping to collect a higher quality of proxies
Improved general performance to make the program faster and more efficient
Improved the proxy source to provide a wider range of proxies
Improved license activation to make it easier for users to activate their licenses
Improved the calculate source quality function to provide more accurate results
Bug Fixes
Fixed GUI bugs to improve the overall user experience
Fixed major bugs that were causing the program to crash or not function properly
Fixed minor bugs to improve the overall stability of the program