Traffic Buddy Version 0.0.8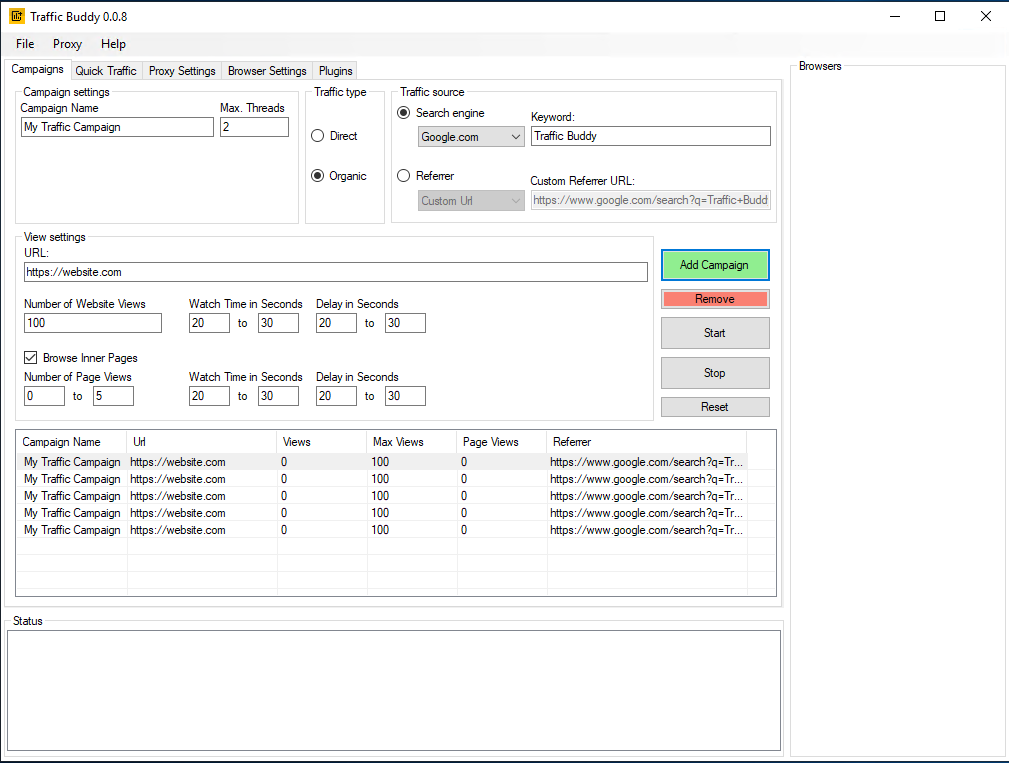 We are excited to announce the release of Traffic Buddy Version 0.0.8! Traffic Buddy is a powerful tool that helps you generate traffic to your website. If you're not already using Traffic Buddy, you can find out more about it on our website.
In this latest version, we've added some exciting new features and made some significant improvements to the tool. Firstly, we've added the ability to start, stop, and reset multiple campaigns simultaneously. With this new feature, you can manage your traffic generation campaigns more efficiently, saving you time and effort.
We've also added the ability to remove whitespace characters from the license key and remove the license key altogether. These changes should make it easier for you to manage your licenses and use the tool without any issues.
We've also fixed some UI-related issues, including the proper resizing of the UI. We've also fixed some bugs related to the removal of multiple campaigns and the disappearing of campaigns.
Additionally, we've fixed some issues related to stopping campaigns, ensuring that it now works properly. Finally, we've fixed some minor bugs that were affecting the performance of the tool.
Overall, Traffic Buddy Version 0.0.8 is a significant upgrade to the tool, providing new features and improvements that make traffic generation more efficient and effective. We hope you'll find these new features and improvements helpful. You can download the latest version of Traffic Buddy from our website and start generating traffic to your website today. As always, if you have any feedback or suggestions, please don't hesitate to let us know.
Traffic Buddy Version 0.0.8 has been released today. Find out more about Traffic Buddy here.
Version 0.0.8 - 29.11.2021
[ADD] Start multiple campaigns
[ADD] Stop multiple campaigns
[ADD] Reset multiple campaigns
[ADD] Remove white space character from license key
[ADD] Remove License Key
[FIX] UI not properly resizing
[FIX] Remove multiple campaigns
[FIX] Campaign disappear
[FIX] Stop campaign not working properly
[FIX] Minor Bugs