Traffic Buddy Version 0.0.7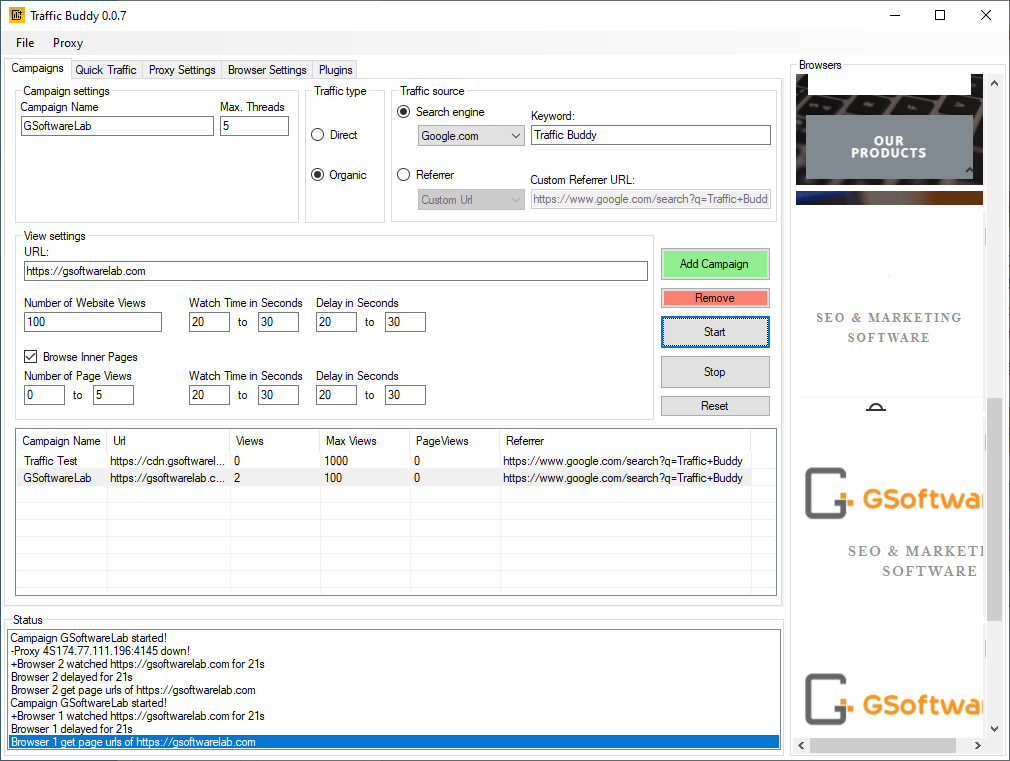 We are thrilled to announce the release of Traffic Buddy Version 0.0.7! Traffic Buddy is a powerful tool that helps you generate traffic to your website. If you're not already using Traffic Buddy, you can find out more about it on our website.
In this latest version, we've added some exciting new features and made significant improvements to the tool. Firstly, we've added new referrer options for Google and Bing, making it even easier for you to generate traffic from specific sources.
We've also added the ability to set the browser local/language, which can help to make your traffic generation efforts even more effective. With these new features, you can set the language and location of your traffic to match the target audience, improving the likelihood of engagement and conversions.
We've also added the ability to repeat/reset views, set max threads/browsers per campaign, and view the watch/view time on campaigns. These features provide more flexibility and control over your traffic generation campaigns, allowing you to fine-tune them for optimal results.
We've also improved the website viewing and plugin function, making them even more efficient and reliable. With these improvements, you can expect more accurate and realistic traffic generation, which can help to improve the effectiveness of your traffic generation strategies.
Finally, we've fixed some major and minor bugs that were affecting the performance of the tool. We take user feedback seriously and are committed to providing a bug-free experience for our users.
We believe that Traffic Buddy Version 0.0.7 is our best release yet, and we hope you'll find these new features and improvements helpful. You can download the latest version of Traffic Buddy from our website and start generating traffic to your website today. As always, if you have any feedback or suggestions, please don't hesitate to let us know.
Traffic Buddy Version 0.0.7 has been released today. Find out more about Traffic Buddy here.
Version 0.0.7 - 23.11.2021
[ADD] Referrer Google.de/.co.uk, Bing.de/.co.uk
[ADD] Watch/View Time on campains
[ADD] Set Browser Local/Language
[ADD] Repeat/Reset Views
[ADD] Set Browser Language
[ADD] Set max. Threads/Browsers per campaign
[IMPROVE] Website viewing
[IMPROVE] Plugin function
[FIX] Campaign disappear
[FIX] Major Bug
[FIX] Minor Bugs